Custom Welding Services and Fabrication
At Swanton Welding, we realize that we are only as good as the members of our team. We know that having an experienced and dedicated workforce allows us to maintain our achievement as a leading custom welding and fabrication company.
Swanton Welding regularly invests in professional development and skills training for our employees. We know our commitment to quality and customer service is built by adopting best practices and the latest fabrication technology into our everyday practice.
Different Welding Methods
Each method of welding will have advantages and disadvantages to your specific project. At Swanton Welding, we are well versed in many types of welding methods. Welding methods that may work for your project may include:
Stick/Arc welding (SMAW)

Metal Inert Gas (MIG) welding or GMAW

Tungsten Inert Gas (TIG) welding or GTAW

Flux-Cored Arc Welding
Not only is the method of welding important, but also knowing the materials and metals you are welding to and with are also crucial for a weld that will hold up over time.
Estimating
Your project's quote is only as good as the estimating department that gives it to you. It's important to have accurate and complete blueprints, drawings, or files when you submit for a quote. The attention to detail your team provides on the front end for Swanton Welding's estimating team ensures that your quote is detailed and complete.
Our estimating team works together closely with our project managers and our in-house CWI, to make sure your project's quality standards and timelines are met or exceeded.
Inspection
Having a Certified Welding Inspector (CWI) on staff at your fabrication company shows that the company is willing to make an investment to get the job done right. Swanton Welding has a dedicated Certified Welding Inspector (CWI) in-house that inspects every project.
Swanton's in-house certified welding inspector has the ability to ensure that your fabrication project adheres to all the requirements before, during, and after your project is completed.
Our CWI inspects the requirements and welding codes of a project before any work is completed. They also review all the documents and testing records of anyone working on the project to make sure they are certified to perform the work – before the work begins. These checks and balances help ensure your fabrication project has the right people, material, and certifications all lined up before work begins.
Having an inspector on staff at your fabrication company shows that the company is willing to make an investment to get the job done right. An inspector follows the project throughout helping make adjustments to make sure that Swanton Welding's high-quality standards are met. 
Having a CWI on staff helps us continue to maintain best practices and safety standards for our staff and your fabrication project.
Diverse Welding and Fabrication Services
At Swanton Welding, we've diversified our services to meet more of the demands our customers need. Throughout our three facilities, we have provided more integrated manufacturing for complete projects.
We offer machining capabilities, smaller sub-assembly, as well as robotic welding. From rolling and forming to paint and finishing services, Swanton Welding can complete more of your fabrication project under the Swanton Welding umbrella, saving you on your timelines and your budget.
Finishing Services – Industrial Painting, Powder Coating and Blasting
There is no need to subcontract our finishing services for your fabrication project. At Swanton Welding, we can handle the finishing your project needs before arriving at its destination. We can handle all industrial paint, powder coating, or blasting jobs with our high-performance equipment and provide you with the required profile for your project.
Paint & Powder Coat Booth Sizes
Paint Booths
75' x 32' x 28'
50' x 14' x 16'
48' x 14' x 14'
Powder Coat Line
2' x 4' x 6' (up to 250lbs)
Blast Booth
60' x 16' x 14'
Continuous Reclaim System
120 PSI operating pressure
Blasts carbon steel, stainless and aluminum
Media: G80 Steel Grit & G80 Australian Garnet
Industries Served
Swanton Welding offers a diverse range of services for many industries. With our quality certifications and our skilled workforce, we are able to complete fabrication projects that help keep America strong.
Aerospace

Agricultural
Architecture
Chemical
Oil & gas, industrial
Alternative energy
Government
Clean Air & Water
Industrial Construction
Many more
Integrated Manufacturing & Fabrication Teams, All Under One Name… Swanton Welding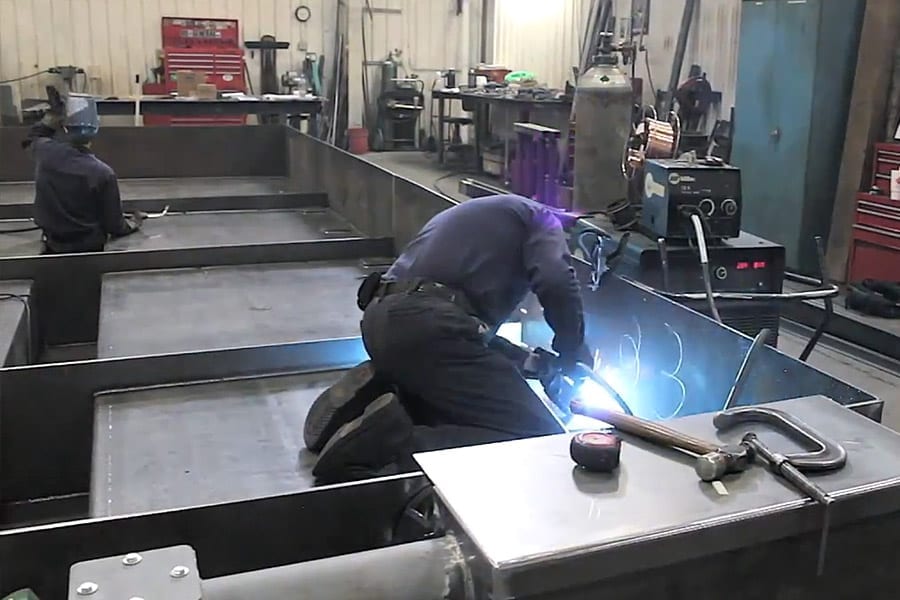 Swanton Welding is different. Our diverse range of talents and skills set our services apart from other metal fabricators. Swanton Welding offers our customers comprehensive fabrication services at an affordable price. From robots creating widgets to skilled fabricators handcrafting oversized pieces with precision, Swanton Welding is the team your project deserves. Our footprint in the south and midwest enables us to work on almost any fabrication project.
Since 1956, Swanton Welding has been providing our customers with the highest quality services for their metal fabrication needs. Swanton Welding's experienced team of fabricators, welders, painters, and technicians have enabled Swanton Welding to be the comprehensive fabrication team your project needs.