Sheet Metal Fabrication
Whether you need a single specialty item, a piece of equipment made right away, or a large-scale production run completed in a matter of weeks, you will need efficient and affordable sheet metal fabrication. 
Swanton Welding uses the latest equipment and technology, enabling them to take your plans and produce the sheet metal fabrication product to your requirements you need in a timely manner, on a budget, and with no waste. We have vast knowledge and experience bending, forming, and working with sheet metal fabrication. We approach our fabrication projects with focused attention on details and superior customer service.
Reducing Your Sheet Metal Fabrication Timelines
Sheet metal fabrication is just one part of the diverse metal fabrication services we offer at Swanton Welding.  We realized that when an order for a sheet metal project came in, there were other services that customers need to assemble and create their project.
By keeping your sheet metal fabrication project with one fabricator, you can reduce and minimize any shipping delays or errors between subcontractors.
Both our headquarters in Swanton, Ohio, and our Southern Facility in Griffin, GA have trained and experienced operators in handling our sheet metal fabrication projects.
Sheet Metal Fabrication Projects
Sheet metal can be bent, punched, cut, rolled, and stamped within Swanton Welding's three facilities. Some projects that may use sheet metal might include:
Doors

Body Panels
Brackets
High Production Volume For Sheet Metal Fabrication
There are times when you will require a very large production volume to fulfill your work order and maximize your profitability. Swanton Welding is capable of producing thousands of units with reasonably short lead times and uses the latest technology. 
At Swanton, our fabricators can take your plans, help you to choose the correct metal types, and determine the best method by which they can get your job done right, on time, and within your budget.
Multiple Welding Formats
Different types of metal require different types of welds. Whether you are working with basic sheet metal, more delicate aluminum or other metals and alloys, sheet metal fabrication requires using the correct type of welding to ensure structural integrity. 
MIG
TIG
Oxy-Acetylene
light-gauge arc welding
Other welding formats are available to compliment the specific types of metals and thicknesses that you will require to produce the equipment you need.
Laser, Plasma, and Water Jet Cutting
The delicate nature of sheet metal makes it highly susceptible to warping and other damage during production runs. To reduce loss and maximize efficiency, Swanton Welding uses our precision laser, plasma, or water jet cutting tools to cut directly where needed without overheating or damaging the metal being used.
You will get the greatest potential production from your sheet metal while having the least amount of waste. You will also benefit from having cuts made precisely where you need them, which virtually eliminates any variation in cuts and ensures that pieces will fit as designed.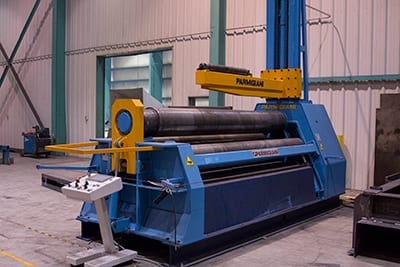 Rolling, Forming, and Bending
Your fabrication likely involves surfaces that need to be more than just flat or angular. That is where Swanton Welding's rolling and forming fabricators come into play. When you have curves, bends, and other shapes to be made, sheet metal fabrication requires the right equipment, tools, and experienced operators to ensure the job is done right.
One wrong bend or improperly-shaped curve could result in an incorrect fit. Swanton Welding sheet metal fabricators will ensure your items are formed properly and fit correctly.
CNC Machining and Punching
To ensure your highly specialized parts are made properly, some sheet metal fabrication requires CNC machining and punching for precise fitment. The computer-aided production method forms your metal exactly as you need it, no matter how thick the metal or intricate the pattern.
You also will have your screw, rivet, and other holes made exactly where you need them and in the proper quantities so that neither you or any of your clients have any trouble when installing your new pieces.
Swanton Welding's highly trained operators will work on your project to your exact specifications to make sure that each piece is created correctly.
Finishing Services – Industrial Painting, Powder Coating and Blasting
There is no need to subcontract our finishing services for your fabrication project. At Swanton Welding, we can handle the finishing your project needs before arriving at its destination. We can handle all industrial paint, powder coating, or blasting jobs with our high-performance equipment and provide you with the required profile for your project.
Paint & Powder Coat Booth Sizes
Paint Booths
75' x 32' x 28'
50' x 14' x 16'
48' x 14' x 14'
Powder Coat Line
2' x 4' x 6' (up to 250lbs)
Blast Booth
60' x 16' x 14'
Continuous Reclaim System
120 PSI operating pressure
Blasts carbon steel, stainless and aluminum
Media: G80 Steel Grit & G80 Australian Garnet
Industries Served
Swanton Welding offers a diverse range of services for many industries. With our quality certifications and our skilled workforce, we are able to complete fabrication projects that help keep America strong.
Aerospace

Agricultural
Architecture
Chemical
Oil & gas, industrial
Alternative energy
Government
Clean Air & Water
Industrial Construction
Many more
Integrated Manufacturing & Fabrication Teams, All Under One Name… Swanton Welding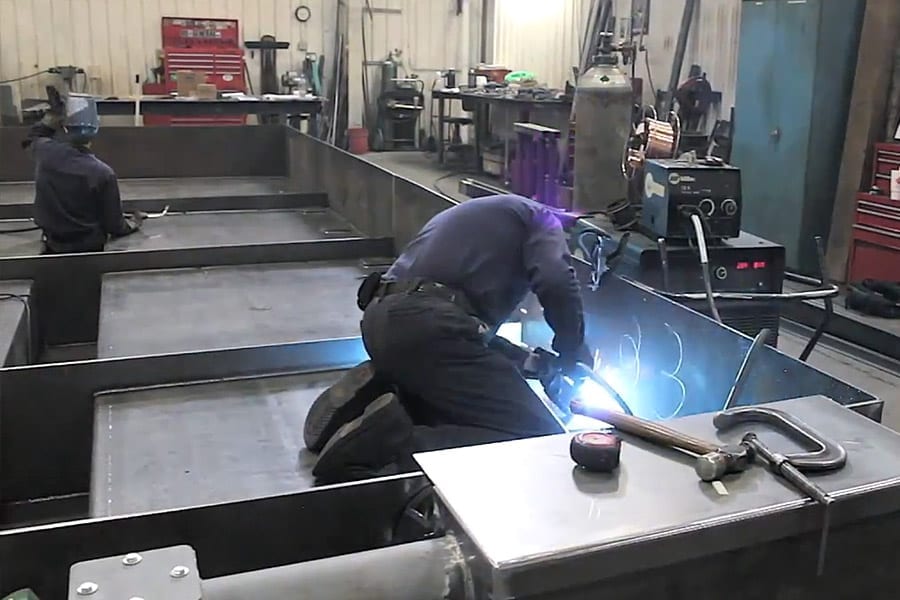 Swanton Welding is different. Our diverse range of talents and skills set our services apart from other metal fabricators. Swanton Welding offers our customers comprehensive fabrication services at an affordable price. From robots creating widgets to skilled fabricators handcrafting oversized pieces with precision, Swanton Welding is the team your project deserves. Our footprint in the south and midwest enables us to work on almost any fabrication project.
Since 1956, Swanton Welding has been providing our customers with the highest quality services for their metal fabrication needs. Swanton Welding's experienced team of fabricators, welders, painters, and technicians have enabled Swanton Welding to be the comprehensive fabrication team your project needs.