Sheet Metal Fabrication

Whether you need a single specialty item, a piece of equipment made right away or a large-scale production run done in a matter of weeks, you will need efficient and affordable sheet metal fabrication. This will require finding a company that has access to the latest equipment and technology, enabling them to take your plans and produce exactly the product you need in a timely manner, on a budget, and with no waste. Ideally, the company will have a great deal of experience in projects like yours and references to back up their claims. Finding the perfect fabricator is more than worth the time. Here are a few things to consider while you are looking for an ideal service provider.
Short Lead Times and Emergency Services
You cannot wait several months for your order to be completed. In most cases you should be able to have your order fulfilled with a lead time of no more than two to four weeks. If production times take longer you run the risk of not having your product completed and delivered to your worksite when you need it. This, in turn, can lead to costly overruns as can shipping issues. Shipping and handling of a fabricated sheet metal product can be a difficult and delicate procedure. Even with the expertise and knowledge of a reputable fabricator, unexpected accidents can occur. Ensure your fabrication company of choice has the experience and bandwidth to repair, replace, or remedy any damage to your product and still meet your project deadlines.
High Production Volume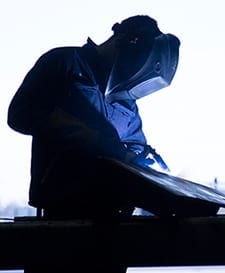 There are times when you will require a very large production volume to fulfill your work order and maximize your profitability. Quality fabrication services should be capable of producing thousands of units with a reasonably short lead time and using the latest technology. An efficient fabricator will take your plans, help you to choose the correct metal types, and determine the best method by which they can get your job done right, on time and on a budget.
Multiple Welding Formats
Different types of metal require different types of welds. Whether you are working with basic sheet metal, more delicate aluminum or other metals and alloys, sheet metal fabrication requires using the correct type of welding to ensure structural integrity. MIG, TIG, Oxy-Acetylene, light-gauge arc welding, and many other welding formats are available to compliment the specific types of metals and thicknesses that you will require to produce the equipment you need.
Laser, Plasma, and Water Jet Cutting
The delicate nature of sheet metal makes it highly susceptible to warping and other damage during production runs. To reduce loss and maximize efficiency, precision laser, plasma, and water jet cutting tools are used to cut directly where needed without overheating or damaging the metal being used. That means you will get the greatest potential production from your stock sheet metal while enduring the least amount of waste. You will also benefit from having cuts made precisely where you need them, which virtually eliminates any variation in cuts and ensures that pieces will fit as designed.
Rolling, Forming, and Bending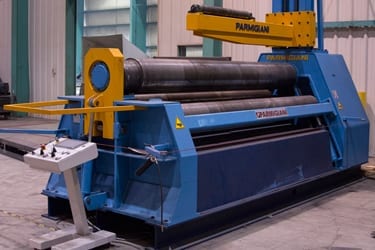 Your fabrication likely involves surfaces that need to be more than just flat or angular. That is where rolling, forming and creating bends come into play. When you have curves, bends, and other shapes to be made, sheet metal fabrication requires the right equipment, tools, and experienced operators to ensure the job is done right. One wrong bend or improperly-shaped curve could result in an incorrect fit. The best fabricators will ensure your items are built properly and fit correctly.
CNC Machining and Punching
To ensure your highly specialized parts are made properly, sheet metal fabrication requires CNC machining and punching for precise fitment. The computer-aided production method forms your metal exactly as you need it, no matter how thick the metal or intricate the pattern. You also will have your screw, rivet, and other holes made exactly where you need them and in the proper quantities so that neither you or any of your clients have any trouble when installing your new pieces.
Multiple File Formats
Sheet metal fabrication relies somewhat on computer assistance, which helps to ensure that every step is done exactly as needed. Fabrication is often done in conjunction with AutoCAD, 2D Mechanical, 3D Inventor, Radan, and other common file formats. Quality sheet metal fabrication providers should be able to use these basic formats, but you still should check ahead to ensure compatibility before placing your order. Only when the right file formats are used will you have the highest quality production possible.
Choose Wisely
No matter what your sheet metal needs might be, from a small emergency run to full-scale production of thousands of units, the best fabricators will have the equipment, skills, experience, and ability to get the job done right, on-time, and on budget. As long as you abide the lead times and provide the proper file formats, you sheet metal fabrication needs can be handled quickly, efficiently, affordably, and without cutting corners or sacrificing quality.