Metal Rolling & Forming Services
Swanton Welding & Machining's rolling and forming equipment performs precision rolling and forming operations that can generate multiple bends in metal, all while maintaining high accuracy and repeatability.
Overview of Rolling and Forming Services at Swanton Welding
The earth isn't flat, and neither are the structures and objects that surround us every day. Not everything can fit in a box, and it's important to have the ability and expertise to form and shape metal, in addition, to welding & fabrication at your metal fabrication house.
By implementing the latest technology and equipment, Swanton Welding can offer more services to our customers and not have to subcontract more work out of our facility. This can help reduced timeline and shipping delays.
We have rolling and forming equipment at our headquarters in Swanton, Ohio, and in our Southern Facility, in Griffin, GA. Our trained operators have the expertise to roll and form your metal fabrication project to your exact specifications.
Projects
We work with mild steel, stainless steel, and aluminum materials, creating a wide variety of fabrication products. 
Frames
Cones
Chutes
Cyclones
Handrails
Rectangular to Round
Multiple Bends
Tubs
Elbows
Finishing Services – Industrial Painting, Powder Coating and Blasting
There is no need to subcontract our finishing services for your fabrication project. At Swanton Welding, we can handle the finishing your project needs before arriving at its destination. We can handle all industrial paint, powder coating, or blasting jobs with our high-performance equipment and provide you with the required profile for your project.
Paint & Powder Coat Booth Sizes
Paint Booths
75' x 32' x 28'
50' x 14' x 16'
48' x 14' x 14'
Powder Coat Line
2' x 4' x 6' (up to 250lbs)
Blast Booth
60' x 16' x 14'
Continuous Reclaim System
120 PSI operating pressure
Can Blast Carbon Steel, Stainless & Aluminum
Media: G80 Steel Grit & G80 Australian Garnet
Industries Served
Swanton Welding offers a diverse range of services for many industries. With our quality certifications and our skilled workforce, we are able to complete fabrication projects that help keep America strong.
Aerospace
Agricultural
Architecture
Oil & gas, industrial
Alternative energy
Chemical
Government
Food & Beverage
Industrial Construction
Integrated Manufacturing & Fabrication Teams, All Under One Name… Swanton Welding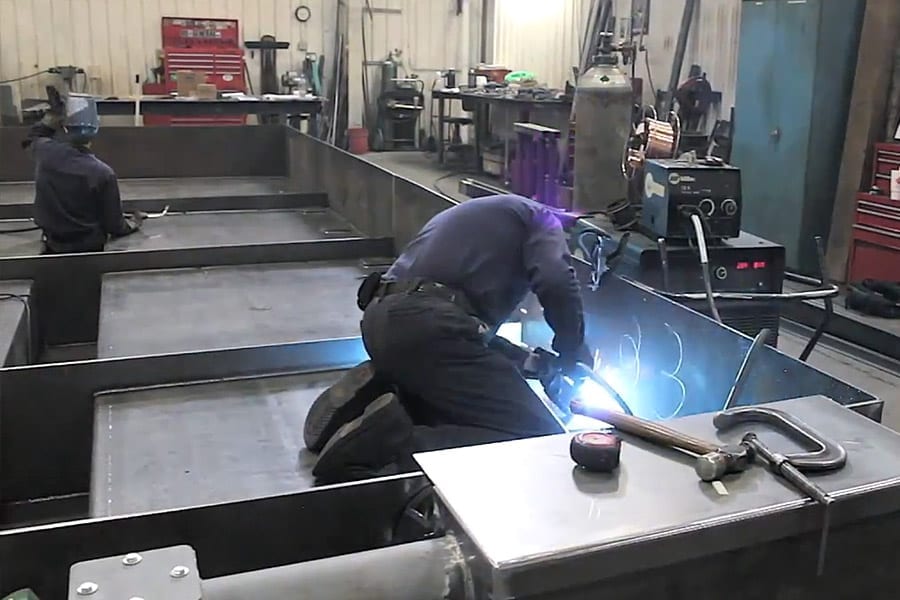 Swanton Welding is different. Our diverse range of talents and skills set our services apart from other metal fabricators. Swanton Welding offers our customers comprehensive fabrication services at an affordable price. From robots creating widgets to skilled fabricators handcrafting oversized pieces with precision, Swanton Welding is the team your project deserves. Our footprint in the south and midwest enables us to work on almost any fabrication project.
Since 1956, Swanton Welding has been providing our customers with the highest quality services for their metal fabrication needs. Swanton Welding's experienced team of fabricators, welders, painters, and technicians have enabled Swanton Welding to be the comprehensive fabrication team your project needs.