Mixing Tank Fabrication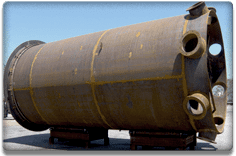 A customer from the water treatment industry approached Swanton Welding & Machining to fabricate a mixing tank assembly. The 50,000 lbs. tank assembly was made up of many different parts and systems including rapid mix, reactor and clarifier tanks, a 16′-8″ long platform, and a 15′ high draft tube.
To fabricate these components and many other smaller parts, we used a wide variety of methods including, CNC milling, MIG welding, drilling, laser cutting, bending and tapping. All other necessary hardware was cost-effectively procured from reliable outside sources.
The mixing tank assembly, which was made from a combination of 6063-T6 aluminum, 316 stainless steel, A-36 carbon steel and schedule 80 pipe, was thoroughly inspected and delivered to Richmond, Virginia.
Location
Richmond, Virginia.
Fabrication Methods
CNC milling, MIG welding, drilling, laser cutting, bending and tapping
Size
16'-8" long platform, and a 15' high draft tube
Weight
50,000 lbs