Clarifier Tank Project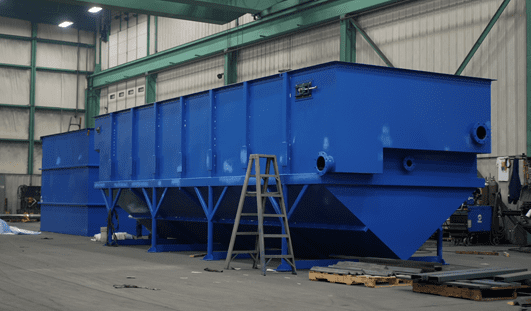 At Swanton Welding, we have the expertise and resources to meet all your large scale project requirements at our state-of-the-art facility. As your trusted partner in welding and fabrication projects, we are committed to providing exceptional craftsmanship, reliable service, and timely project completion. An example of our capabilities is the recent construction of a sizable clarifier tank for a client based in Little Rock, Arkansas.
Project Specifications
Swanton Welding Company began working on this clarifier project in October, 2022 with a wrap-up just short of seven months later at the end of May, 2023. The customer is based out of Little Rock, Arkansas, and we were able to deliver the completed project to them from our shop in Swanton, Ohio. The main tank included in this project was 34' long, 12' wide, 10'6" tall, and weighed approximately 23,000 pounds.
The clarifier we fabricated is made to maximize performance. Our fabrication includes a proprietary inlet chamber and recycle pressurization system. The inlet chamber dissipates energy and turbulence from the mixing of feed and depressurizing flows, which is then transformed to an evenly distributed laminar flow as it enters the Dissolved Air Floatation (DAF) cell. Any excess undissolved air is captured and vented outside, preventing air turbulence and resulting in optimum use of the DAF cell floatation area.
Fabrication Specifications
The material used in this support structure project was all carbon steel and stainless steel. For fabrication, a variety of methods were used throughout the project. At various points in the project, the fabrication methods used were laser cutting, saw cutting, press braking, rolling, machining, and welding. After the fabrication was complete, sand blasting and painting were used for finishing. We used SP10 Near White Blast and Sherwin Williams duraplate 235 Multipurpose epoxy during the finishing process.
Unique Project Needs
At Swanton, we are committed to delivering only fabrication projects that we know meet our high standards. In this case, to ensure that there were no problems with the system, we fully assembled the clarifier, filled the tanks with water, and tested the system prior to sending the completed project to the client.
Swanton Welding Co. can source the materials, handle every stage of the fabrication process, manage the testing, and deliver your project to its final destination, and this clarifier project was no different. We stand by all our fabrication work and guarantee the completed project meets or exceeds your needs. To learn more about our custom fabrication capabilities, contact us today.
Start Date
October 28, 2022
Completion Date
May 22, 2023
Location
Little Rock, Arkansas
Materials
Carbon & Stainless Steel
Fabrication Methods
Laser cutting
Saw cutting
Press braking
Rolling
Machining
Welding
Finishing Details
SP10 Near White Blast
Sherwin Williams Duraplate 235 Multipurpose Epoxy
Size
Main Tank was 34' x 12' x 10'-6"
Weight
23,000#
Special Notes
We fully assembled this project, filled the tanks with water, and test ran the system prior to sending it out.