Support Structure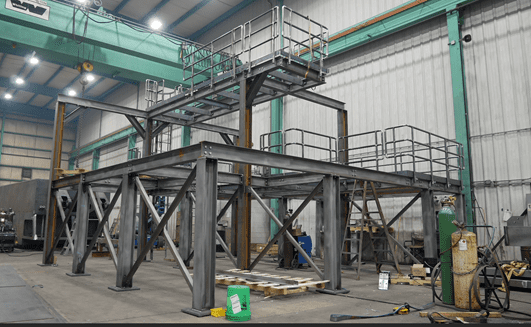 Swanton Welding is fully equipped to meet all your large-scale structural steel project requirements in-house at our cutting-edge USA facility. We take pride in being a dedicated partner in the success of every fabrication project we complete. Recently, we collaborated with a client based in South Carolina to construct a support structure. Given its critical role in ensuring the overall project integrity, the fabrication of this fixed support demanded the utmost quality and attention to detail. Our team of skilled fabrication experts consistently delivers the exceptional structural support our clients need.
Project Specifications
We started this project in February 2023, and finished approximately 10 weeks later in April 2023. This undertaking involved the construction of a conventional support structure, measuring 40 feet in length, 25 feet in width, 18 feet in height, and weighing approximately 30,000 pounds fully assembled. Once finished, this structural steel support project was delivered to the client in Greer, SC.
Fabrication Specifications
Every component of this large support structure was constructed from the same high-quality carbon steel. For fabrication, a variety of methods were used throughout the project including our beam line, saw cutting, an angle line, machining, welding, laser cutting, and forming. After the build was complete, sand blasting and painting were used for finishing. A brush blast and painting with a quick dry industrial enamel gave the client the finish they required.
Unique Project Needs
In most cases, when we fabricate a support structure in our Swanton facility, we ship the components separately to be fitted together at the build site. In this case, we completely built the support structure platform to make sure everything fit together as it should. This was done to eliminate any possible fitting issues in the field and to ensure that the client would be completely satisfied with the finished project.
Swanton Welding has the capabilities and experience necessary to source the materials, handle every stage of the fabrication process, manage the testing, and deliver the project to its final destination. This support structure project was no different. To learn more about how we can bring your next structural steel project to life, contact us for a quote.
Start Date
February 9, 2023
Completion Date
April 28, 2023
Location
Greer, SC.
Materials
All carbon steel
Fabrication Methods
Saw Cutting, beam line, angle line, welding, machining, laser cutting, forming, sand blasting, painting.
Finishing Details
Brush blast and a Quick Dry Industrial Enamel
Size
40' long x 25' Wide x 18' Tall
Weight
30,000#
Special Notes
We completely built the platform to make sure everything fit together as it should to eliminate any possible fit-up issues in the field.