Custom Metal Fabrication

Metal fabrication is a process that involves bending and cutting metal to form a specific, boilerplate structure or product. In comparison, custom metal fabrication involves cutting materials in a specific way to meet the needs of customers instead of attempting to maintain a standard look or size. Custom metal fabrication uses a wide range of specialized industrial equipment to achieve its desired result. The most common metals used in this process include stainless steel, copper, aluminum and carbon steel.
Process of Custom Metal Fabrication
Metals start the process in one of two forms; structural and sheet metal. Sheet metal is available as rectangular sheets or rolls of different thickness and sizes. If sheet metal is thicker than 3/16" it is referred to as a plate. On the other hand, structural metal comes formed into different shapes from the start, the most common ones being HSS, channels, beams and angles. The metal you use is largely dependent on your end goal and the application of its desired use. more personalized projects will obviously require more custom shaping.
The process of custom metal fabrication occurs in three stages; metal cutting, forming and assembly.
Metal Cutting
Here several tools like notches, punches, lasers, plasmas, shears and saws are used. Straight line cuts are made using saws, with the cut of material needed determining the saw that is used. Beams are passed through conveyors so they can be cut into various sizes. When more articulate cuts are required shears are used and, like saws, the cut of metal required determines the size of shear. Lasers and plasmas are used to cut more complex shapes like circles and complex curves. They are usually controlled by computers and can cut any metal with precision. Notches and punches are used for creating openings on metals of any size or shape using high pressure.
Forming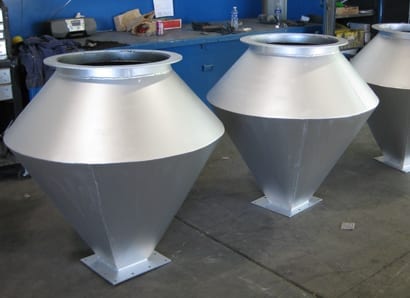 Forming happens after metals are cut. Machines generating a great deal of force and pressure are used to give the metal its desired shape. The main techniques used to form the shapes are press baking and rolling, both of which can be used to form metals of a huge range of thicknesses and sizes. This increases the versatility of the metal being used, making it ideal for a much wider range of applications.
Assembly
Once the metals have been formed, they are assembled and joined. This process typically involves welding the pieces together with intense heat without compromising the integrity of the individual pieces. It is at this time that the final product comes together and all of the earlier metal shapings serve its intended purpose.
Custom Metal Fabrication Benefits
There is nothing like the craftsmanship and beauty of handcrafted metalwork. Whether you are making a product for a purely functional purpose or not, custom metal fabrication work stands out. However, the difference is about more than aesthetics. Typically fabricated product will be made with a "one size fits all" mentality, products created through custom metal fabrication can be customized to meet each and every one of your needs. Custom metal fabrication work done today combines traditional hammer and forge methods with modern technologies like plasma cutting, water jet cutting, and AutoCAD. This ensures the accuracy of the fabrication and allows you to anticipate exactly what kind of product you will receive.
Cost of Custom Metal Fabrication Products
Many businesses require custom fabrication solutions for a wide variety of applications. As each product is made specifically to match your needs, it is natural to ask yourself what you will pay for these services. This number will be based on many factors:
Size
The size of the custom metal fabrication project that you need to be completed will have a great influence on the overall cost as larger products will use more labor and materials.
Metal
The metal used for custom fabrication will affect the price too. Metals that are commonly utilized include aluminum and stainless steel. However, depending on the type of project other metals like tungsten, brass and copper may be used as well. Alloys will be used in most custom fabrications and some cases precious metals like platinum, gold or silver will be incorporated.
Types of Processes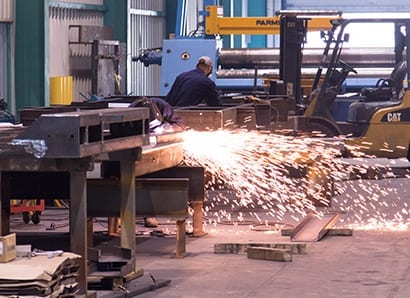 The processes which will be used to design your custom fabricated metal work will influence the price too. Some commonly used processes are punching, rolling, bending and metal cutting. Assembly is always performed, and welding will be required in most cases. The total cost will be influenced too by the number of processes that will have to be carried out. Their complexity will play a role in the total cost of the custom fabrication. The more expertise and experience required, the more expensive the process will be.
How to Save on Custom Fabrication
The best way to save is to and find fabricators that work in a cost efficient manner and utilize high-quality long-lasting materials. You will need to find a company that can deliver your desired services within the budget that you have set. Different custom metal fabricators usually focus on different kinds of services. Therefore, it is important that you make the right investment with every fabricated metal, feature or component that your business will require.
Capabilities
As different fabricating companies focus on different services, you will need to identify the type of specialization you will require for your application. Once you have done this you can research their production capacities, the type of structures they typically create and the kind of materials they typically use.
Price
Compare the prices of different fabricators that meet your requirements and then compare the quality of their work to the price they are offering. Note that one company could have higher quotes than others not because they are overcharging but because they are, for example, using more advanced and precise cutting tools which mean there will be fewer costly mistakes.
There is no doubt that custom metal fabrication has moved metalwork to a whole new level.  Custom metal fabricators can create products that will match your needs perfectly, using a variety of high-quality materials and advanced methods. If you require custom fabricated products for your business then do not hesitate to contact Swanton Welding today.