Metal Stair Fabrication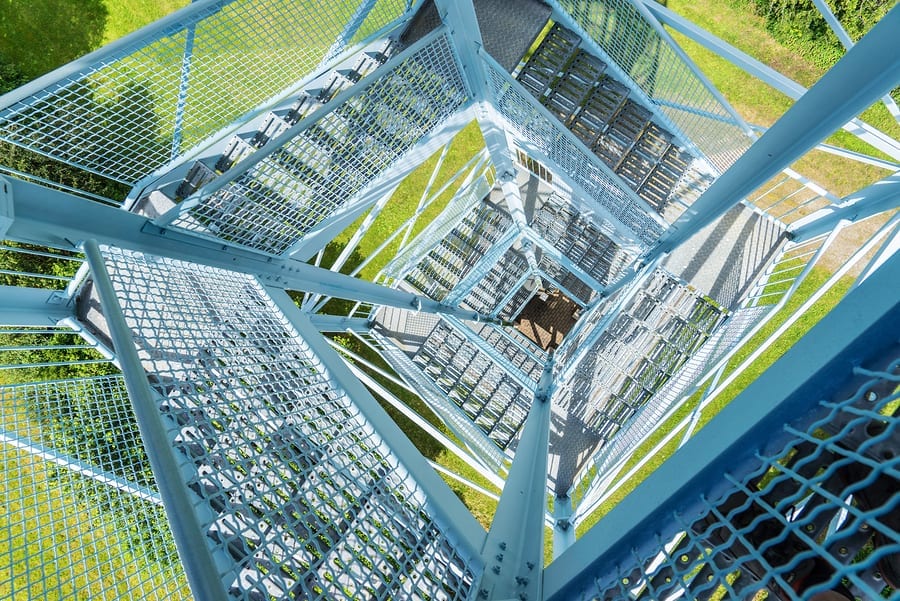 Stairs are an integral part of any construction project, be it a production plant, a rocket platform, or an industrial complex. Steel staircases provide the resilience and strength needed to handle high-density traffic safely, and the fact that they can be affixed long after the main building or structure was set up make them an utter convenience. Choosing a good metal stair fabricator who can handle your scale of production is key to getting the perfect balance between design, strength and cost for your stairs.
Why Use Metal Stairs?
Metal stairs are a commonplace in most industrial and commercial settings. You will find them up communication masts, rocket launch pads, storage silos, as fire escape stairs on commercial buildings and in warehouses and factory floors. Why are they so widely used?
Metal stairs are easy to maintain. They are resistant to extreme stress, fluctuating extreme temperatures and humidity, and thus are suitable both indoor and outdoor use.

A custom metal stair fabrication will fit into your installation site's profile easily. The result is a seamless integration that will be easy to install and won't require a lot of structural reorganization.

Metal stairs are tough. They will withstand the test of time under various environments. Moreover, they offer a better weight to strength ratio making it perfect for commercial or industrial application.

A custom metal fabricator can customize the stairs to whichever shape, size or style. This leaves you the freedom to build a staircase that utilizes your structures strengths and compensates on its weaknesses
Metal Stair Fabrication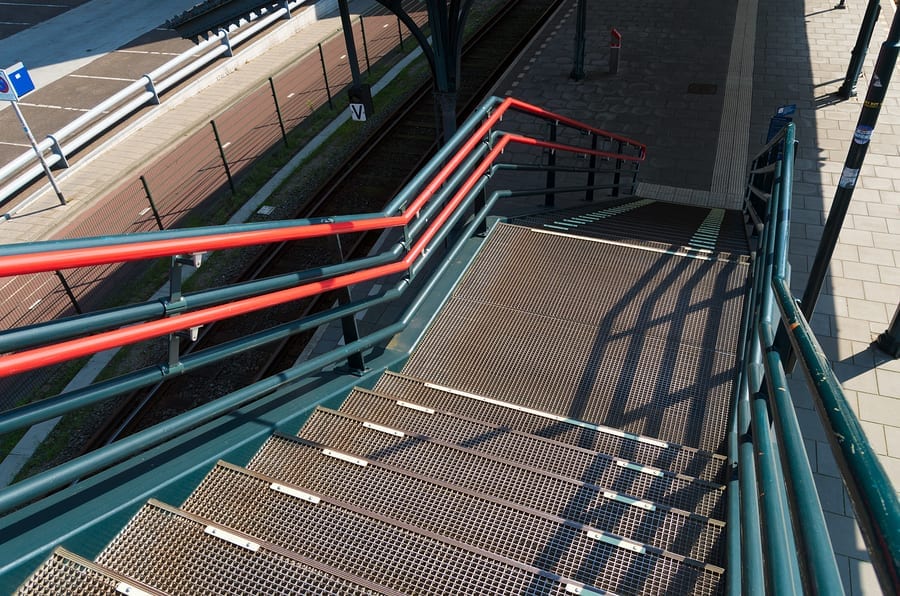 The most commonly used material in custom metal stair fabrication is steel and aluminum. These two metals are the perfect balance between versatility, availability and cost. The metal fabricator you choose to work with will determine the quality of metal stair you end up with. At Swanton Welding, we take pride in our ability to deliver beyond your wildest expectations. With 60 years of experience in the industry, we have grown from a small-scale fabricator to a large-scale company who has what it takes to handle bulky and complex projects with ease.
Our team of highly trained and experienced custom fabricators can adapt to your requirements and specifications.  We use a number of techniques to make the best handrails and metal stairs. Our production line incorporates innovative technologies that guarantee high precision fabrication at all times. These include:
Hammer and forge methods

Plasma cutting

Water jet cutting

AutoCAD
To ensure we deliver accurate and quality custom fabrication we always challenge ourselves and try to stretch our limits. We get the work done by using result-oriented methods and techniques, and never shy away from trying new things.
Metal Stairs Styles
There are a number of metal staircase styles. The choice will vary depending on the application and installation point. You can count on us to help you choose the perfect design for your premises by taking into account the specific structural, aesthetic, strength and operational requirements. We have mastered the art of manufacturing
Straight flights

Spiral stairs

Quarter turn stairs

Helical stairs

Movable staircases
Metal Stair Tread Options
There are a number of treads options for metal stairs. Their main purpose is to make the stairs less slippery hence safer to use. Safety is a key factor in most commercial and industrial settings. Our understanding of the market puts us at a better place to equip your new stairs with the right grip surface without tarnishing its native strength and versatility. Some of the most common treading options offered at Swanton Welding include:
Plate stair treads

Bar grate stair treads

Plank stair treads

Nosing options like diamond plate nose, grooved nose, and abrasive nose back.
What to Look for in a Metal Fabricator
What you will notice when looking for your metal stair fabricators is that there are actually a good number of them out there. The sensitivity of stairs and the integral part they play in a structure requires that you take your time to find someone who is competent for the job. We at Swanton Welding always try to set the bar high and differentiate from the rest by delivering the best quality work possible to our customers. Some of the qualities to look for when choosing your metal stair fabricator include:
Training and experience

Certification

Track record

Innovativeness
Training and Experience
Training and experience are two things that any good metal fabricator out there must possess. They go hand-in-hand. Look at the training and experience of not only the company but also the individual personnel. We are proud of our highly trained and highly experienced team of fabricators. With over 60 years of experience, we are always improving to meet the changing dynamics.
Certification
Certification is key. Check whether relevant bodies like The American Society of Mechanical Engineers (ASME) certify the fabricator. Certified fabricators adhere to acceptable safety and industry standards. Certification by the ASME ensures skilled welds and quality metal fabrication. You can trust on our team of fully certified fabricators to get the job done.
Track Record
One's record of accomplishment often speaks more of them than what they actually have to say. Choose a fabricator with a good track record from the past projects they have been involved in. What do their past customers have to say about them? Do they have any referrals? At Swanton Welding, you don't have to take our word for it, our customers have always been happy with the work we do for them.
Innovativeness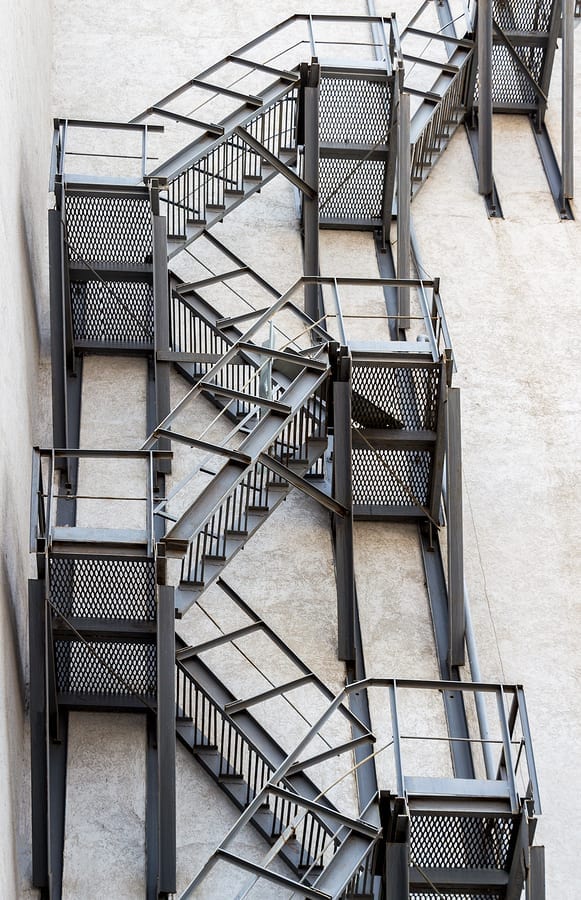 Innovativeness is the end game in the metal fabrication business. A zeal for innovation and controlled tests before the implementation the final design are the key to a highly customized design that fits your needs. The fabricator you choose should be innovative enough to complete the job faster and better. Innovativeness means they can develop unique solutions to specific problems. We always incorporate new tools, methods, techniques and technologies to ensure innovativeness to our customer's satisfaction.
Avoid cutting corners to bring down the cost of your metal stair fabrication. In most cases the lower costs options means the material used is of questionable quality. Also be wary of welders or fabricators who seem to rush jobs that normally require time and focus to accomplish. It is better you pay more for a commendable job that would be safe, durable and of high quality.
How you want your metal staircase to be should dictate the fabricators you choose. A poor fabricator will do a poor job while an average one will do an average job. That is not what you need for your property. Always seek to work with a reputable company like Swanton Welding that has proven its competence over and over again throughout the years.