Silo Storage Tanks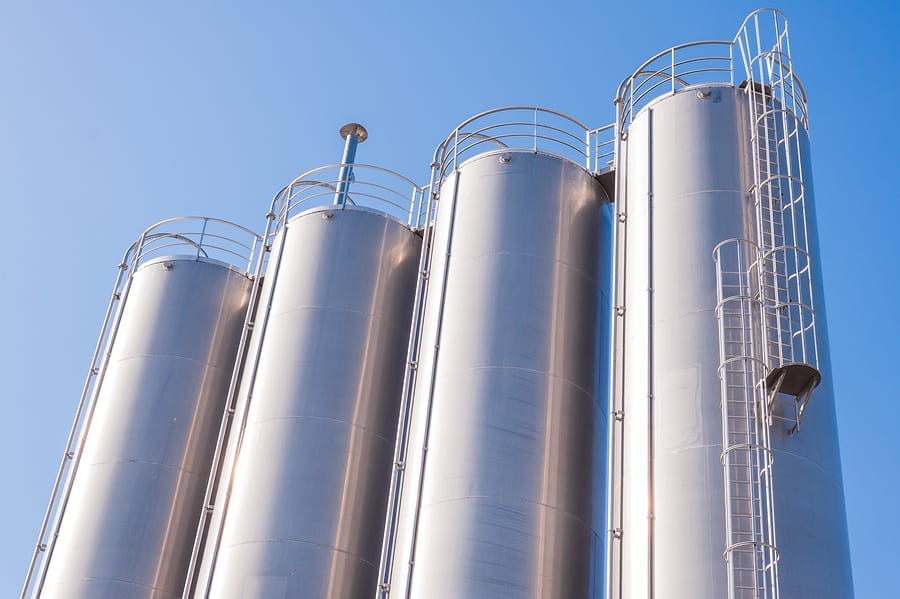 Silo storage tanks are used around the world to keep bulk products safe. Many companies, from the oil companies to local food producers, utilize silos as a simple way to store huge amounts of any substance without putting it at risk. Silos can be built using a wide range of materials to meet the needs of the product that will be stored in them, and can also be refrigerated or coated for extra protection. Silos also come in horizontal and vertical orientations, but vertical silos are most popular for a number of reasons.
Construction
There are a wide range of construction materials used to build silos today including steel, aluminum, wood and even concrete. For most food and fuel related purposes, aluminum and stainless steel are most common. This is because it is relatively easy for a metal fabricator to manipulate sheets of metal to form a solid ring, and then stack those rings together to form one contiguous structure. Depending on the height and weight needs of the silo, aluminum or steel framing around the inside and outside of the silo can also help improve the structural integrity of the silo, especially for vertical builds that are subject to a variety of weather conditions and shifting weight inside.
Why Vertical?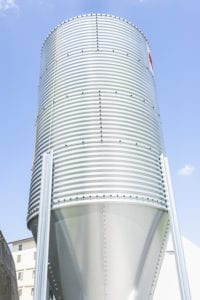 Silos have actually been used for at least the last several hundred years as a means of storing grain and other foods. The earliest silos were made of wood but advancements in technology have allowed us to build silos out of 304 and 316L stainless steels for integrity and durability. The use of vertical silos has increased over the years as more and more companies turn to this storage mechanism to preserve their bulk material.
Vertical storage offers the advantage of taking up far less real estate than horizontal tanks. It is also typically easier to move in sections and cheaper to construct than other storage systems. In addition, significant research has shown that silos for storing solid materials like grains or pellets work best because filling from the top evenly distributes the product all the way around the interior of the tank.
Horizontal tanks are subject to uneven loading and unloading, which often requires manual labor to push product to where it needs to go. This can lead to a huge increase in the operating costs related to the storage system.
Types of Silos
Today it is not uncommon for silos to be built using an inner and outer layer. On the inside a 316L stainless steel liner can be built for contact with any material using specialized coatings to protect against corrosion and contamination. A custom metal fabrication shop can typically offer a wide range of coatings for this purpose. The outer layer of the silo can be made of any material and painted to reflect heat or protect against weather. The pocket between the two layers can be insulated or used for refrigerants to keep product cool.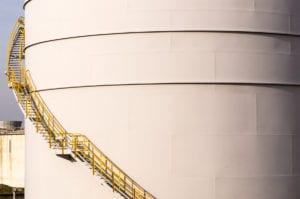 Beyond the basics of vertical silos, there are also a number of advanced storage systems now in production. Low Oxygen silos are designed to pump oxygen out of the storage area to prevent mold and other contaminants from growing, and to manage the process of fermentation.
In the fossil fuel and natural gas industries these systems can also be used to manage the internal pressure of a sealed silo. A skilled metal fabricator will not only design and build the silo structure itself, but also build the valves and lines necessary to operate one of these silos effectively.
Silo tanks can range in size from 100 gallons to more than 40,000 gallons of storage space. They can also be interconnected to form networks for overfill if necessary. Some silo tanks are specifically designed for transport purposes. These silos can be designed to perfectly fit a standard 63′ trailer for moving product from one location to another.
Silo Construction
Silos can be built to nearly any dimensions and specifications with the right fabrication shop. The type of material to be stored in the tank will determine what type of construction materials and finishing products should be used. A knowledgeable fabricator can make recommendations based on their experience with steel processing, welding and painting.
While the term silo is most often associated with vertical storage structures, there are many different silo systems that are designed for horizontal storage. Vertical storage does have many advantages and has been deemed the most cost effective and safest way to handle bulk material due to the natural tendency for product to flow smoothly from top to bottom within the tank. Anyone considering a custom silo should consult with a metal fabricator about the structural needs of their storage system to learn more about what type of steel will best serve their project and provide the best longevity.